The Great Indian Laughter Challenge (TGILC) returned on TV 9 years after the Season 4 finale. The show that introduced stand - up comedy to Indian television had been a launching platform for stars like Kapil Sharma who now hosts The Kapil Sharma Show and Raju Srivastav who was a chosen participant in Bigg Boss 3. A recent Zapr led campaign for the show on Star Plus reached out to 2 Mn+ unique audiences in just seven days with a video completion rate of 38%!
Prime time on television is when shows garner the most audiences and this is ideal for advertisers as well. But prime time shows receive divided audience attention with their high spent TV campaigns. As a primetime show, TGILC competed with other shows to attract viewers for its launch. With Akshay Kumar as the judge, TGILC expected to receive more audience attention.
Star Plus media agency Mindshare, approached Zapr to run a parallel Mobile campaign that would complement TV spends to target viewers of competitor shows and lead them to tune in for the show.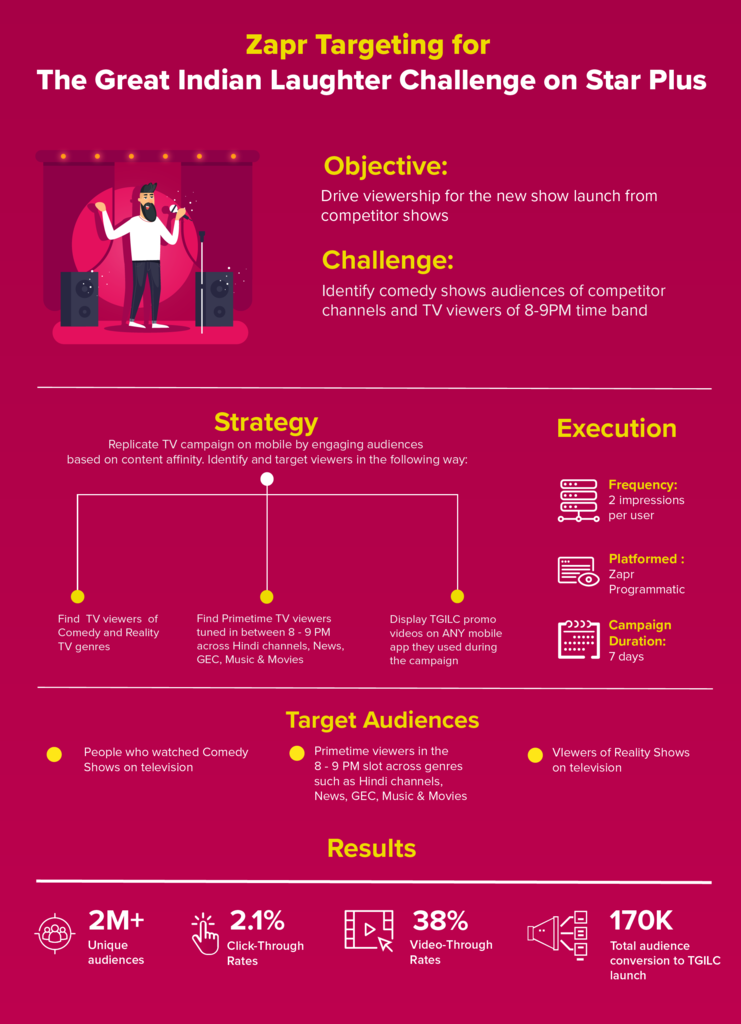 CHALLENGE
The client's objective was to drive viewership for the new season launch of The Great Indian Laughter Challenge. The challenges were:
> Identify avid viewers of comedy content on competitor channels and TV viewers of 8-9 pm time band
> Engage them on second - screen platforms and get them to tune in for the Season Premiere.
STRATEGY
TGILC campaign strategy required precision audience targeting and engagement to achieve people's mindshare. Zapr designed and executed a TV-like campaign engaging audiences based on content affinity - viewership of specific TV genres.
> Using advanced digital signal processing and data analytics, we identified the audiences of Comedy and Reality TV who are likely to watch the show of similar genre. Zapr's TV to Mobile technology helped determine these viewers while they watched the shows on offline television.
> We targeted people who watched Hindi channels, News, GEC, Music and Movies in the 8-9 pm prime time slot (TGILC aired during the time) since they are more likely to tune in for the show.
> During the campaign duration, promo videos were displayed across mobile apps that the target audience used.
EXECUTION
Zapr in partnership with Mindshare targeted audiences based on their offline TV viewing patterns and engaged them on digital to drive viewership for the show premiere. We created a cross-screen audience targeting for TGILC, where the targeted offline TV viewers were shown TGILC video promos on ANY mobile app they used.
The TGILC campaign was active for seven days, across Zapr's Programmatic Platform, engaging target markets on their smartphones with a frequency cap of 2 ad units per user. The campaign ran two video creatives beginning from 7am till 12 am, clocking a 17 hour/day campaign for a week.
We reached 90% total audiences of Hindi GEC channels during primetime (8-9 time band). Zapr targeting got 8.32% (170K) of the 2+ Mn unique target audiences to tune into TGILC launch on TV. To increase frequency and recall, Zapr targeted the 53% TV promo viewers of the total target audiences on mobile and achieved a conversion of 14.2%.
Campaign Duration: 7 Days
Platform: Zapr Programmatic
Media Agency : Mindshare
Zapr being a hard core data-driven company, deep dived into analytical parameters of time, day, geographical location and content affinities. We precisely measured key performance metrics such as VTR, CTR, conversion and reach.
RESULTS
TGILC' s campaign engaged 2+ million specific target audiences (Comedy & Reality TV + 8-9 time band audiences of Hindi channels, News, GEC, Music & Movies) and converted 8.32% of audiences to the launch by Zapr targeting along with TV promo.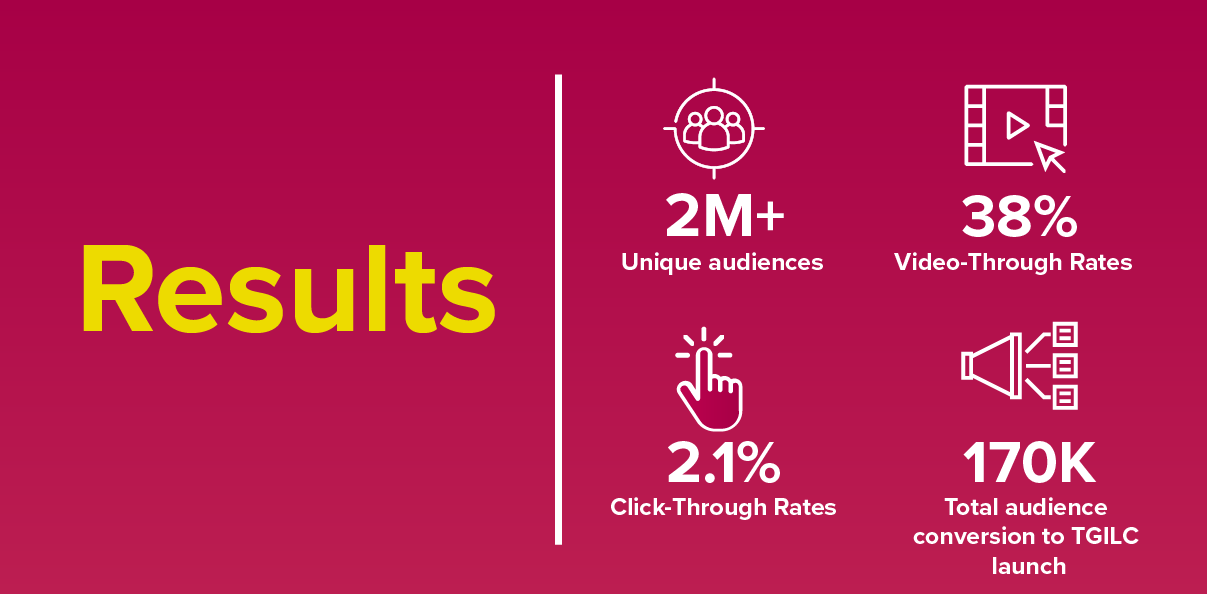 38% of the people who started watching the video, watched it till the end, exceeding the benchmark of 30%. Zapr's user-mapping technology precisely identified the view through rates (VTR) of viewers across geographical locations; Mumbai (39% VTR) following the rest of Maharashtra (43% VTR).
CAMPAIGN LEARNINGS
Zapr analytics helps brands identify the right audience groups based on TV viewership and target them effectively on second-screen. Campaign results of The Great Indian Laughter Challenge prove the effectiveness of Zapr's offline-to-online audience targeting. This real-time cross-screen experience opens up previously inaccessible opportunities for offline conversions using only Mobile as an advertising medium.
Connect with us on hello@zapr.in to roll out your next data-driven campaign.
Also read: Hewlett-Packard India garners 430,000+ incremental reach over TV campaign in priority markets