In the age of digital everything, advertising on Television is expensive but the opportunity it provides is unparalleled - A brand image can be constructed quicker and on a much larger scale, solving problems such as awareness and top of mind recall effectively. How can these TV ads find their way to relevant audiences and ad viewers to drive Brand Frequency in the most effective manner?
When Brands advertise on television, they don't just settle for "awareness". They want maximum recall among target audiences. And how best to attain this? By continuous exposure to brand messages.
For our clients, Zapr provides the only platform that helps connect TV and mobile comprehensively for brand campaigns.
Zapr Media Labs we recently executed an advanced targeting campaign for a new product by a major Banking and Financial Services brand. We identified specific individuals who had watched the brand's offline TV commercials over a period of time and engaged with them on their smartphones.
THE CHALLENGE
To claim top-of-mind recall among people who are already aware of the brand.
Our challenge was to make sure the brand's new product was marketed among audiences who recently engaged with the brand and therefore increase the brand's share-of-mind.
THE ZAPR APPROACH
To meet this objective, we designed an exposure based strategy.
Our team targeted smartphone users who had watched the brand's TV Commercials, and re-exposed them to the Campaign Video on mobile via the largest Ad Exchanges across hundreds of publishers.
EXECUTION
The brand's Target Group was identified across ZAPR's TV viewership repository comprised of more than 30 million individuals in India.
We mapped out specific smartphone users who had watched the brand's commercial on TV more than 4 times across every major TV channel in India. These individuals were then exposed to the banners and interstitial ad units on their smartphones through Zapr's ad-tech platform via direct and programmatic systems.
Creative: Banners and Interstitials
Campaign Duration: 30 Days
We also tracked the campaign's level of engagement by providing various performance metrics: daily, weekday and weekend, along with timings across a day.
In addition, we measured Genre-Based TV consumption among ad viewers: % Split across Entertainment, Sports, News, Travel and Adventure; Top shows and Channels watched.
RESULTS
The campaign engaged with the Target Groups at Click-Through-Rates ranging from 2.5% to 5.0% for Banners and Interstitial ad creatives.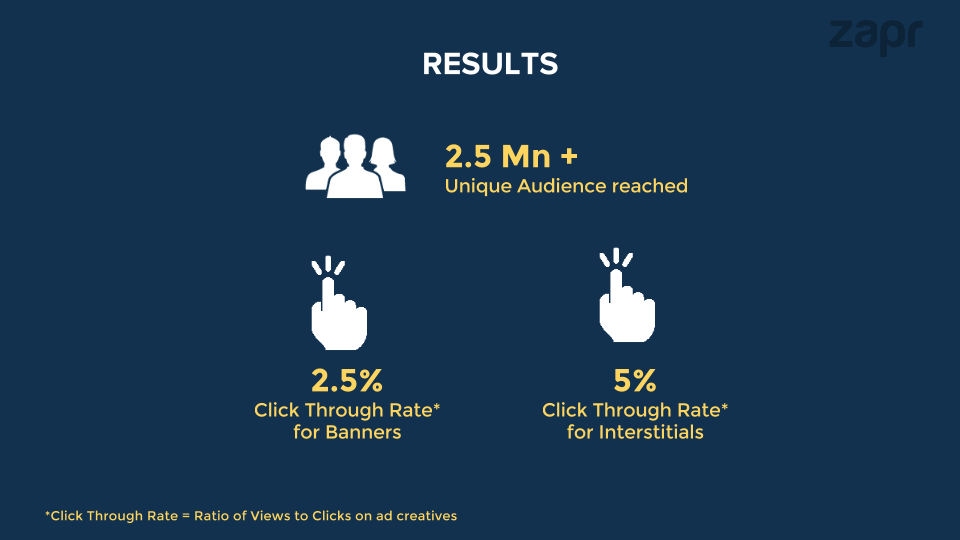 The campaign received a 5% CTR for the Interstitial ads, proving that a push strategy could very well work for effective brand exposure. The Banner ads, relatively less intrusive for targeted smartphone users, hit a 2.5% CTR.
The brand also accessed detailed data on the interests of its Target Groups: the television consumption patterns of more than 2.5 million Indian smartphone users with whom it engaged via Zapr's TV-to-Mobile targeting platform. This information allows the brand to profile users who expressed interest in their ads and who didn't - aiding future brand campaigns.