Max Bupa, India's leading health insurance brand, launched a new product 'GoActive' earlier this year. With new-age offers like 'OPD visits & diagnostics', 'personalised health coaching', early age enrolment discount under 'AdvantAGE', 'I-Protect', 'behavioural counselling', the health insurance offering disrupted the usual portfolio of the health insurance sector which covers nearly 15% of the Indian population. To get their message across mass audiences, the brand invested in TV campaigns among select channels. However, they needed to ensure top recall among priority markets and create differentiation from other insurance brands who were also advertising on TV during the same time.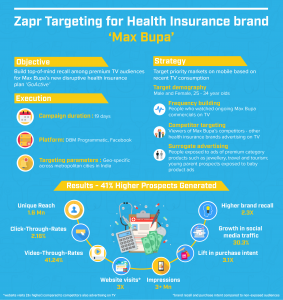 How would Max Bupa amplify brand awareness among its priority segments beyond their TV exposure?

The brand engaged Zapr Media Labs for a cross-media solution that would sync ongoing TV exposure with deterministic engagement on mobile.

"Zapr has played a pivotal role in our recent campaign 'GoActive' and enabled us to reach our priority audience. Through the campaign, we could reach 1.6 million unique individuals which has subsequently empowered us to get 30.3% growth in our overall social media traffic in just a month."
- Anika Agarwal
(Senior Vice President and Head-Marketing, Digital and Direct Sales, Max Bupa Health Insurance)

THE CHALLENGE: FINDING PRIORITY MARKETS

Having spent on TV, they needed to engage with priority segments beyond this offline platform, and expand their reach on second screen with GoActive ads.

The challenge for Max Bupa was to find these select offline audiences, target them online, and create enough impact to evoke maximum response for their ads.


THE THREE-PRONGED ENGAGEMENT STRATEGY

To solve this problem, Max Bupa engaged with Zapr, India's largest offline media consumption repository to find their priority TV segments. Innovative TV-to-Mobile technology at Zapr enabled the brand to engage with three audience segments straight on their mobiles:

• Converting TV views to instant clicks

Max Bupa would build frequency of its brand exposure among people who watched their ongoing commercials on TV. By syncing TV ads with immediate mobile engagement, Zapr would create a virtual point-of-sale for the brand's offline ads on every targeted user's mobile.


• Neutralizing competition from other TV ads

For Max Bupa, the challenge to remain top-of-mind among their audiences involved neutralizing the impact of competitor brands. So each time somebody watched another insurance brand's ad on TV, Max Bupa would ensure they were immediately targeted with GoActive video ads on their mobiles.


• Surrogate advertising to capture priority segments from non-direct markets

Apart from engaging with people who had direct TV exposure, Max Bupa would drive incremental reach among non-direct markets who are also a priority based on their exposure to premium brand ads. The health insurance brand would reach people exposed to ads of premium category products such as jewellery, travel and tourism and baby products to reach parent prospects with considerable need for health insurances.



EXECUTION - THE TV TIEBREAKER ON MOBILE


Using deep neural networks and collaborative filtering approaches based on media consumption habits of users, Zapr identified the exact offline target audiences with an added demographic filter of 'males and females aged 30+'.

The entire campaign was executed with geo-specific filters reaching audiences located only in metropolitan cities such as Delhi, Mumbai, Kolkata, Chennai and so on. This way, Max Bupa would reach audiences who are in the prime of their careers and are most likely to afford insurance premiums given their urban status.

The target audience base for Max Bupa was directly plugged into effective digital platforms Facebook and DBM. The campaign reached the identified audiences directly on their social newsfeed and also on any app they used anytime during the campaign.


Campaign Duration: 19 days

Platform: DBM, Facebook

Creative: Videos, Banners

Zapr constantly monitored the campaign on client-accessible dashboards to make sure every dollar was being spent the right way. We also built a reporting connector on Facebook to review performance and automatically refresh the campaign's audience pool based on daily TV viewership status.


RESULTS - REAPING ROIs ACROSS SCREENS


Max Bupa's cross-screen campaign with Zapr reached 1.6 million unique individuals from TV screens on their mobiles. In less than twenty days, we delivered 2.16% Click-Through-Rates to the brand's landing page, also reflected in Max Bupa driving 3x higher website visits compared to competitors who also advertised on TV during the same time.


The videos targeted among priority audiences garnered 41.24% Video-Through-Rates, meaning that nearly half the targeted users watched it till the end, suggesting high interest among target audiences.


Campaign impact survey - the real feedback mechanism

To further measure the impact of Zapr's second-screen targeting, we ran an in-depth survey among engaged users and found 2.3x higher brand recall compared to unexposed audiences. The campaign actually impacted consumer behaviour with 3.1x higher purchase intent among those who engaged via Zapr compared to those who were not exposed to the ads. This would explain the buzz created on the brand's online platforms with Zapr contributing to a 30.3% growth in Max Bupa's overall social media traffic in just a month.

This feedback mechanism allowed Max Bupa to measure real ROIs from cross-screen campaigns and also pitch it against the value given by other second screen targeting platforms.


CAMPAIGN TAKEAWAY

For the first time, brands can measure and even amplify top-of-mind recall among their offline priority markets. Competition can be assessed deterministically and action can be taken across multiple screens to ensure real ROIs for marketing objectives.

Basis the tremendous success of the campaign, Max Bupa witnessed 26% growth in traffic (3 times the previous visit rates), and generated 41% more prospects as a result.
Also read how Zapr delivered incremental reach over Godrej No.1 TV plan: 70%+ completed view rate on Mobile.