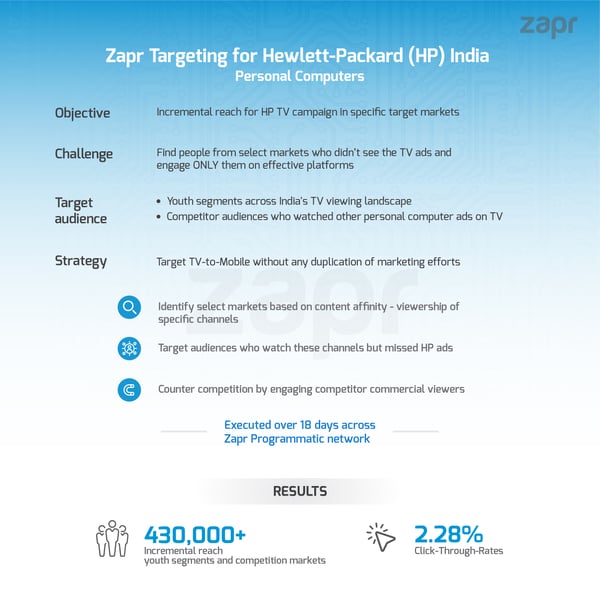 This leading Laptop OEM brand wanted to build incremental reach over and above their TV campaign for their laptop brand, HP Pavilion x360 - an agile product with strong messaging for youth audiences. Previously, there was no way of precisely gauging the penetration of their TV commercials to drive incremental reach across digital platforms. PHD Media India recognized a fantastic opportunity for Hewlett-Packard India. The brand leveraged audio-recognition technology at Zapr Media Labs to identify TV viewers and gain incremental reach among target markets, with zero duplication.
Using Zapr's unique TV-to-Mobile platform, Hewlett-Packard India identified youth audiences in priority markets who had NOT been exposed to their TV campaign. Furthermore we deep dive to identify audience who had seen competitor TV ad spots but NOT exposed to Hewlett-Packard commercials. Both segments were engaged on their smartphones using Zapr's proprietary technology. This way the brand could efficiently compliment their TV campaign and bridge the gap between their offline and online strategies.
CHALLENGE:
We had to deliver unduplicated incremental reach for the Hewlett-Packard's TV campaign with additional criterion of:
Selective priority markets of the brand

Relevant target audience i.e Youth segments
These users had to be engaged across digital platform (mobile in-app ecosystem) without any spillover.
Zapr's comprehensive TV-to-Mobile platform enabled the brand to identify precise and deterministic target-segment for executing a seamless cross-screen campaign.
ZAPR STRATEGY:
Zapr and PHD Media designed a second-screen targeting strategy that would penetrate into Hewlett-Packard's priority markets and simultaneously outsmart competition.
First, we would identify the audience who are viewers of youth content. Among them, we would find individuals who were not exposed to Hewlett-Packard personal-computer ads on TV and engage with them. The following three target segments were identified to build incremental reach:
Music channel viewers: The brand reached out to youth audience who watch music channels such as VH1, MTV, 9XO and were NOT exposed to Hewlett-Packard's TV ad spots.
Non-news viewers: Youth segments who did not watch news content on TV but watched English movie channels such as HBO, Sony Pix, Movies Now; Hindi movie channels such as Zee Cinema, Star Gold, & Pictures; and infotainment channels such as History TV 18(v) and Discovery channel.
Competitor Audiences: Hewlett-Packard India innovatively ambushed its competition by engaging, on mobile, those who watched a major competitor's TV ads.
EXECUTION
Creative: Video
Duration: 18 days
Platform: Zapr Programmatic
Agency: PHD Media India
Targeted segments were identified across Zapr's audience pool comprised of 40+ million smartphone users who opted into our network via user permissions. We executed the campaign across programmatic and bid inventory near-real time across major mobile ad exchanges such as Google's AdX, Twitter's MoPub, InMobi, Smaato, Inneractive, Vdopia and our direct partner properties. This way Hewlett-Packard's targeted users were engaged on various mobile app they used during the campaign.
RESULTS
Zapr provided as high as 430,000+ incremental reach to Hewlett-Packard Pavilion TV campaign among youth audience in selective priority markets. This precise and deterministic targeting resulted in click-through-rates as high as 2.28%, converting impulse decisions to direct action by leading viewers straight to the point-of-sale on their smartphones. Without such accurate targeting, Hewlett-Packard would need to burn 8 - 10 million impressions on platforms like YouTube and Facebook to get the same incremental reach. Zapr not only limited the spillover by providing a deterministic incremental reach but also helped save 80-90% of Hewlett-Packard's digital budget.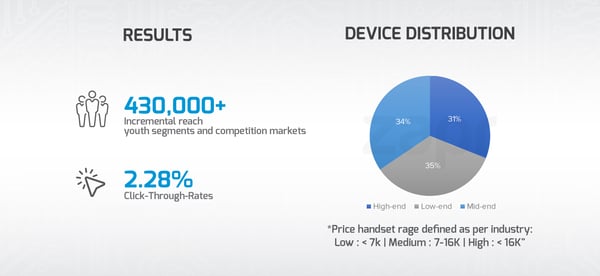 Using our smartphone-powered technology, we identified the kind of mobile handsets used by targeted individuals. Results reveal that a majority of them owned mid-end (34.47%) to high-end devices (31.06%) strongly suggesting that more than two-thirds of the targeted youth audiences possessed above average spending power and could afford to buy the HP Pavilion x360.
Interestingly, we found higher engagement across northern geographic segments such as Delhi, Uttar Pradesh, and Madhya Pradesh, although the campaign was executed across the entire Indian geography. We also detected higher response between 1 - 4 PM on a daily average, adding another layer of advanced analysis for future brand engagement campaigns.
CAMPAIGN TAKEAWAY
Using Zapr's TV-to-Mobile platform, Hewlett-Packard India was able to extend its TV campaign to digital and gain pure incremental reach without any audience duplication. The brand also increased share-of-voice among priority segments by getting competitor audiences to engage with their own product on impactful mobile platforms.
Marketers can reach out to us on hello@zapr.in to execute similarly cutting-edge targeting from the TV screen to Mobile.
Also read how Zapr delivered incremental reach over Godrej No.1 TV plan with 70%+ completed view rate on Mobile.