Cross Platform targeting certainly is (or should be) the mantra for Brand advertisers in an era where smartphones are your digital best-friend. For advertisers who are looking to compliment TV ad campaigns and optimize their marketing strategy across media platforms, the best way to ensure top-of-mind recall is to re-engage with campaign audiences on their Mobiles.
We recently got an exciting opportunity to leverage our TV-to-Mobile technology and increment Reach for a leading Fashion E-commerce brand.
The campaign targeted individuals with high potential for interest, prior exposure towards the brand's ad creative and achieved engagement rates that made even us at Zapr Media Labs do a double take.
THE CHALLENGE
To claim maximum mindspace among individuals most likely to be interested in the brand's Ad creative.
We wanted to take Brand Awareness to the next level by achieving effective Brand Engagement with individuals most likely to be interested in the campaign.
THE ZAPR APPROACH
Given our challenge, we decided to use two exposure based targeting parameters which would best meet the client's campaign objectives.
First we reached out to individuals who had recently watched the brand's TV commercials. Since they have watched the same ad before, the brand would gain higher mind space among these audiences leading to higher brand recall and ultimately purchase.
The ad's creative was themed around Sports. So we also reached out to 'Sport Viewing Audiences' who were highly likely to express interest in the ad campaign.
EXECUTION
The Ad Creative was shown to the brand's Target Groups identified across ZAPR's TV viewership repository comprised of millions of individuals in India.
We reached out to:
People who have watched the Brand's commercial aired on Television for a specific duration of time

People who watch

Sports channels

like Star Sports, Ten Sports, Sony ESPN and others
Creative: Video
Campaign Duration: 19 Days
Platform: Youtube, Programmatic
The campaign was executed via Zapr's Programmatic network of ad exchanges spanning across hundreds of publishers. Target Groups were also reached on the most popular video sharing website Youtube. To aid recall among viewers, the creative was rolled out with a mix of Skippable and Unskippable features for the first 30 seconds of the video.
RESULTS
The campaign hit Video-Completion-Rates 2x higher than industry benchmarks.
22% of targeted individuals watched the complete video on Youtube!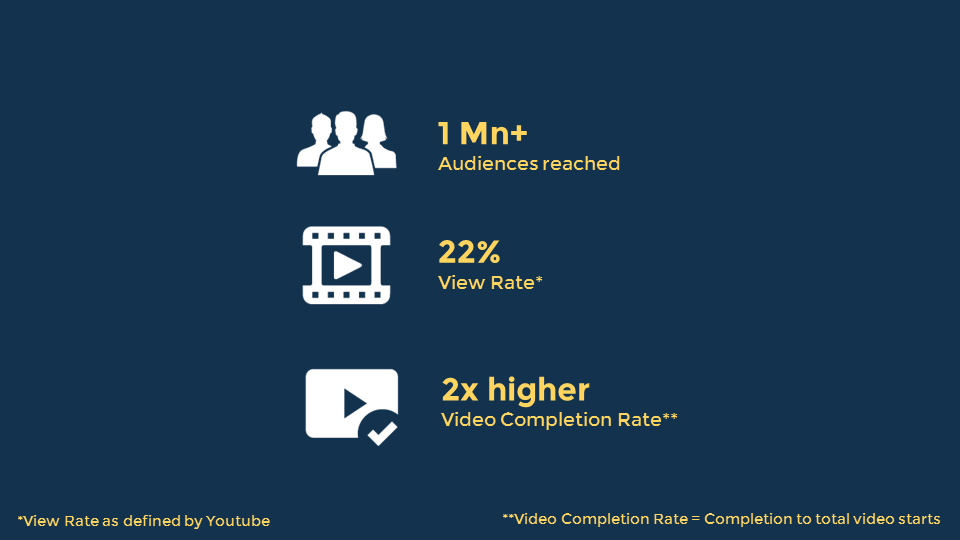 Zapr's smartphone driven technology helps brands to optimize reach for rich media ads among the most niche target groups. Brand advertisers need not settle with the probability of target groups watching their ads, instead complete the advertising circle by directly engaging with their audiences.