One of the most challenging aspects of a marketing plan is segmenting audiences into specific target groups - according to their interests, reflected in the kind of content they consume. Television being the largest consumed media in India, marketers traditionally use this medium to segment Target Groups from a broad range of TV viewing audiences.
Here is where big data analytics at Zapr Media Labs comes into the picture - brands now have access to the TV consumption patterns of 30+ million smartphone users across India. The use cases for this kind of device-level data analytics and programmatic are numerous, and the results impactful.
Our latest campaign with a global Laptop and PC OEM was one such execution:
THE CHALLENGE:
Client: Dell India
To deliver the campaigns to a segment of smartphone users who match the brand's Target Group requirements via deterministic targeting.
Creatives: Banners and Interstitials.

Campaign Duration: 2 Months
For 2 mid-range SKUs, the brand wanted to engage with the youth audience in India, offering a special price.

For the premium SKU, the focus was reaching out to audiences likely to purchase premium technology
STRATEGY:
Keeping these requirements in mind, we identified smartphone users according to particular shows they watch on Television, and also based on their use of high-end smartphones. These shows were representative of the audience categories the brand wanted to reach out to.
For the 2 medium SKUs, we targeted youth audiences who consume youth-centric content on television. These audiences were also offered special prices in the course of the ad campaigns.
For the premium products, we targeted individuals who are predisposed to premium products; who belong to a higher socio-economic segment and who primarily watch HD English language content.
"Zapr technology has seamlessly been able to deliver performance marketing campaign keeping our brand objective, customer insights and key focus platform in mind! A great opportunity to be able to do cross device targeting with a huge upliftment in the CTRs."
Tulsi Gurung, Marketing Manager @ Dell

EXECUTION
We identified these target groups across ZAPR's TV viewership repository comprised of more than 30 million individuals in India.

The audiences were then exposed to the banners and interstitial ad units on mobile, which directly led to a landing page where customers can make a purchase.
TARGETED AUDIENCES:

POOL 1
People who consume music / youth content on television

To capture maximum share-of-mind, we created a segment of people who were exposed to the on-going TV campaigns of competitors

People who watched UEFA & IPL this year

POOL 2
People who watch Travel & Lifestyle genre

People who watch English movies

People who own high-end mobile phones

People who watch a futuristic / sci-fi show (e.g. 'Pandora') aired on a HD English channel
RESULTS:
The ad creatives were served across multiple audience groups to reach the various target segments of the client. These creatives delivered phenomenal consumer engagement that far exceeded expectations. Let's take a look:
The first pool of audience segments delivered an overall 6.5 % CTR to the landing page. Both products reached above 500K unique smartphone users that comprised of only the required audience for the Brand.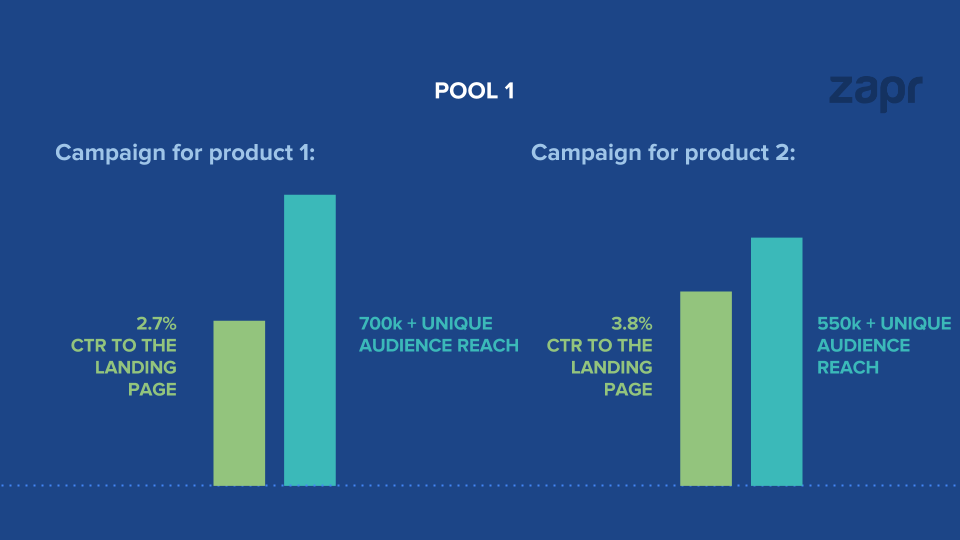 The premium audience pool altogether delivered a massive Click-Through-Rate of 15.05%.
The Target Group comprised of individuals who had watched a single English HD show delivered 5.16% CTR, proving that niche audience targeting is the most effective method of brand engagement. Other niche segments also garnered similarly high CTRs.