The big ticket events like festive seasons are stressful times for brand marketers and their pockets.
Beginning as early as August and coming to an end in November, the festive season sees a lot of brands fighting for the top ad spots on TV and spending crores for a few precious seconds.
Here's what we learnt this festive season:
Approximately 9,000 - 10,000 crores were spent in India this festive season alone.
This season alone, around 8000+ brands advertised between August - October with over 20 million ad spots available.
The ad spots on TV ran at a cost that is 20% higher than the usual.
The total number of brands that advertised grew by 17% month-on-month onwards August, as shown below.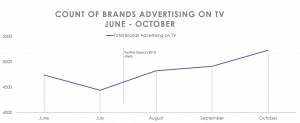 With such heavy spends being made for such a short period, it becomes essential for marketers to take a step back and analyse if their returns were worth it and the best results were delivered.
Did your brands cut through the clutter after all the major spends you made on TV? If yes, good for you.
If not, here are 3 things you can do to make your next big ticket event even better:
1. Build your TV plans on better data insights
Look for hyperlocal data based on your specific requirements to create an optimized media plan. This could be based on language preferences, genre-specific, high impact time slots, etc.
For example, you can even target specific segments like niche channel genres with low overall viewership using precise data insights.
With daily level viewership data, a TV commercial can be compared to its competitor's, which will help you understand its share of voice in the same brand category and plan your advertising campaigns better in the future.
Also, download this whitepaper to read about how we figured a way to reduce over 15% on TV ads spends.
2. Combine your TV strategy with digital
- Increase your reach: Around 90% of digital audiences overlap with TV audiences.
Ensuring you reach only the audiences who haven't watched your ad can save you more than 80% of the cost you would otherwise be spending on digital platforms. By effectively reducing the overlap with a targeted digital plan, brands can enhance brand awareness and reduce advertising spends.
- Build frequency: The more number of times you want to run your ads on TV, the more you need to spend.
The bigger problem here though is that the impressions of your ads may not be evenly distributed among your audiences. Zapr can save you more than 60% of TV ad spends by showing your ads to the required target audience on their smartphone apps. Maximize your frequency cost-efficiently and build better brand recall among your viewers.
- Target your competition: With a lot of clutter among TV ads during the festive season, it becomes hard for your viewers to recall your brand.
In such cases, you might not want to spend as much on TV ads like your competitor brands, especially during times like the festive season when the cost per ad spot hikes up. With Zapr's integrated marketing strategy, you can neutralise competition by precisely identifying the viewers of your competition's TV ads and engaging them on digital as many times as you need for a much lesser cost.
3. Measure the impact of your TV campaigns
An effectively done research goes a long way in efficient media planning. With Zapr, you can run real-time surveys on smartphones that target only your relevant respondents and receive quick feedback for timely action. For example, separate post-TVC brand surveys can be conducted across both audiences who watched and did not watch your TV commercial.
Identifying the exact TV channels and shows to reach your target group can avoid high unnecessary spends on irrelevant audience segments next time, especially during any big season.
---------------------------------------------------
With Zapr, you can get the most relevant and accurate insights that you should be looking for.
This will help you understand your target markets and your own brand's positioning better. Next time, reach out to your relevant TV audience members using a cross-screen advertising strategy and save big on ad spends!