The global Covid-19 pandemic has forced many countries to go under lockdown, disrupting the economic fabric of our societies. Working professionals all around the world are switching to a remote style of working, students are taking online classes and many daily activities have come to a standstill.
As a result of this mandatory home quarantine, there has been a tremendous increase in media consumption on major mediums such as TV and digital. Our studies reveal that TV viewership increased by 6% after just a week of lockdown, while Neilson-BARC reports that smartphone consumption has increased by 1.5 hours.
We've observed that specific genres are seeing completely new viewership trends across different time bands, while consumption across geographies are also drastically changing. These insights, which can be accessed on our recently launched TV viewership report, paint a whole new picture for the media and advertising sector. (Access the latest TV viewership report here.)
This has made it necessary for marketers like you to rethink your media strategies and quickly adapt to changing consumption patterns.
Here are some ways to deal with the situation effectively:
1. Is afternoon the new prime-time? Time to relook at your current TV strategy
Surprisingly, afternoon slots might have become the new primetime. Our studies show that afternoon slots (12 pm - 4 pm) have seen 11% increase in viewership for genres like Entertainment and Movies, while the same channels have seen 4% drop during primetime which has always been considered the choicest time for advertising. Moreover, certain genres have spiked much higher, for example news channels have seen a whopping 34% jump.
Therefore, it becomes important for media planners to analyze the new viewership trends of their target audiences and accordingly place their TV ads. The best way to do this is by deterministically profiling audiences using unparalleled content consumption detection technology. This way, you can make data-backed decisions and boost the impact of your TV spends by putting your ad dollars in the right channels and slots.
2. No lockdown for TV and digital: Sharpen online campaigns using Smart Segments
With work-from-home becoming the norm, people are spending more time with devices, especially their mobiles. This allows huge scope for digital advertisers to engage audiences more effectively. And it all boils down to smarter targeting.
Now's the best time to crack the tough ones such as 'working professionals' who have more purchase power, and 'parents with young kids' who are highly suggestible. Digital advertisers can explore more of these media-consumption based audiences called 'Smart Segments' which are easily available on DMPs.

3. Make real-time changes to your TV campaigns, using real-time data
As a marketer, you need to keep a constant track of your campaigns, especially during these turbulent times when media consumption is highly unpredictable.
The viewership of TV campaigns can be monitored specifically among app-user segments based on geography, channels, genres, affluences levels (depending on price of mobile handsets) and time-slots.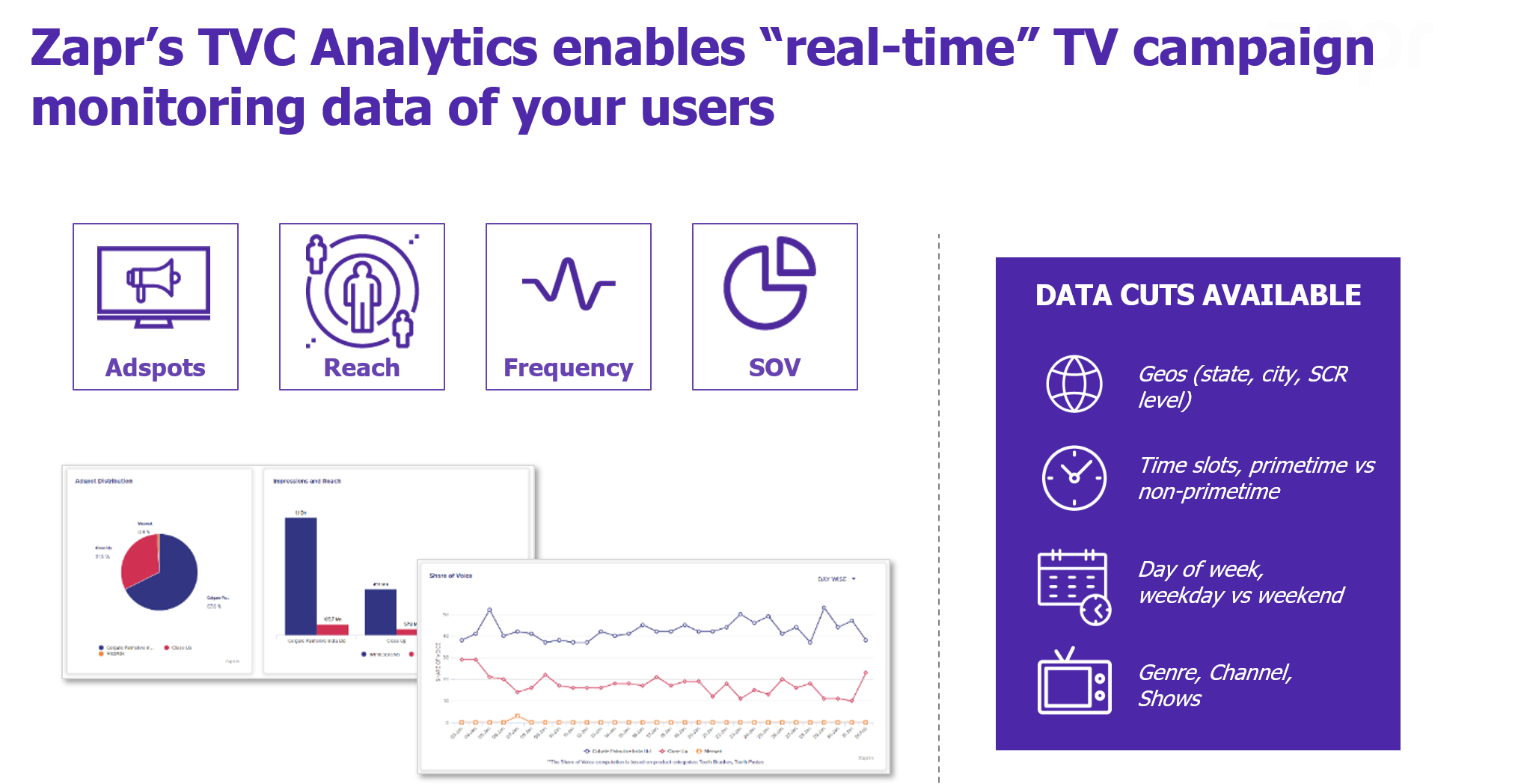 All of this can be done in near real-time with Zapr and you don't have to wait for several days to get a full report on how your TV commercials performed.
For instance, we've seen that cities with 1M+ population have seen the highest spike in TV viewership during lockdown, which creates an opportunity for brands to build frequency and actionability for these locations.


4. Make sure no one's missing out on your TV ads
Television is a great medium for reaching the masses, but a lot of times, marketers are unable to track the actual reach and impact of their TV campaigns.
A great way to deal with this uncertainty is to make use of advanced content consumption detection provided by Zapr. You will be able to digitally reach those who were not exposed to your TV campaigns called 'Cord Cutters' or those who were distracted while watching TV such as 'Cord Fakers'. These audiences are part of the smart segments which can be seamlessly accessed on DMPs like Lotame.
5. Know exactly how your TV ads are impacting viewers
Finally, measure the real impact of your TV campaigns during this time, and get actionable insights on what's working for your campaigns.
We'll help you deterministically attribute every TV ad exposure to app installs and any actions taken such as purchase, add-to-cart, etc.
There are three types of insights that you can get from our attribution report:
Performance insights: Get attribution for specific digital metrics such as app installs or purchases done when people are exposed to TV commercials on different channels, shows, genres and time bands (eg: 8 PM - 9 PM).
Geographical insights:

Understand TVC performance at state, socio-cultural region, city and hyperlocal levels vis-a-vis the specified digital metrics.

Ad creative insights:

Analyze which TV ad creative or language edit gave the best digital results, at an ad-spot exposure level.
You can read more about TV-to-digital attribution on this blog.
The lockdown might have restricted our movements to a large extent, but we have all the technology and the tools to still meet business goals. And to reach them smartly!