The Jio Filmfare Awards on 18th Feb roped in 55 million viewers giving Sony Entertainment TV a 10.1% bump in weekend primetime viewership from Jan 2017. Replacing a night's slot of the channel's hit reality TV series The Kapil Sharma Show, the award telecast grabbed highest Primetime viewership with 45% share among Hindi GECs.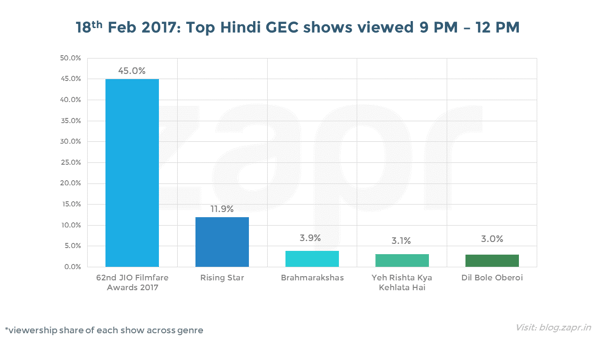 Using Zapr's TV-to-Mobile analytics, we split unique viewers by approximate price-range of their mobile handsets. For marketers these metrics reflect purchase power and consumption patterns of audiences that brands like Jio have engaged through a big budget event like the Filmfare Awards.
The telecast kicked off with 24.2 million viewers and reached a peak of 28.7 million viewers between 10:00 PM and 10:30 PM.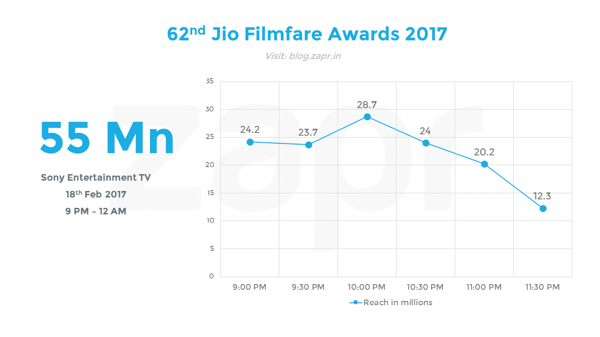 Although the rest of the night saw a gradual dip in the number of people tuned in, the Filmfare awards garnered the highest Hindi GEC genre share for its primetime slot (45%). Besides this metric, we wanted to see what else indicated that the show grabbed maximum attention of Hindi GEC viewers.
To find out, we deployed Zapr's user profiling system and identified top Hindi GEC shows watched by Filmfare viewers during the same time the award aired on TV. We wanted to analyze if people switched channels during the show. And if they did, what did they watch? Did this TV event impact the viewership of other channels?
Our data revealed very small overlaps with other shows suggesting high attention for Filmfare awards among GEC viewers.
The reality show Rising Star aired on Colors between 9:00 PM and 11:00 PM saw 16.4% overlap while other fiction shows like Brahmarakhas on Zee TV and Yeh Rishta Kya Kehlata Hai on Star Plus had smaller overlaps of 2.4% and 3.6% respectively.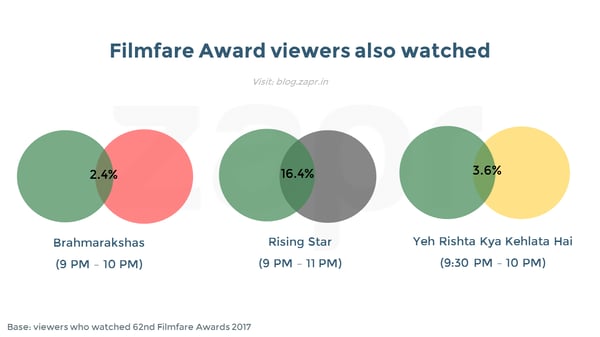 Using Zapr's geographic mapping system, we found that Maharashtra had the largest audiences with 9 million unique viewers tuned in. Uttar Pradesh followed with 6.5 million, Gujarat with 5 million, Delhi with 3.07 million and West Bengal with 3.01 million.
We further broke down location data by population and classified them as urban and rural audiences.
Our research shows that Filmfare viewership leaned heavily towards urban areas with population above 1 lakh. 71% share of viewership went to urban audiences, while rural viewers claimed 29% share.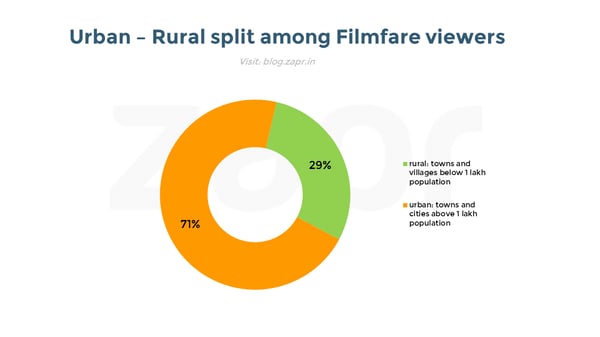 Given the huge skew towards urban viewers, we analyzed the economic bracket in which Filmfare viewers belong. This information would further reflect their purchase power and massively drive targeted brand engagements on mobile.
To achieve this, we tapped into Zapr's core smartphone technology and studied the mobile handsets used by Filmfare users. Our findings show that the bulk of filmfare viewers (71.5%) owned smartphones priced between Rs. 10,000 - Rs. 20,000, while 12.7% owned smartphones above Rs. 20,000, the remaining 15.8% owned smartphones below Rs.10,000. This suggests that Filmfare was a medium through which brands successfully reached out to target groups with higher purchase power.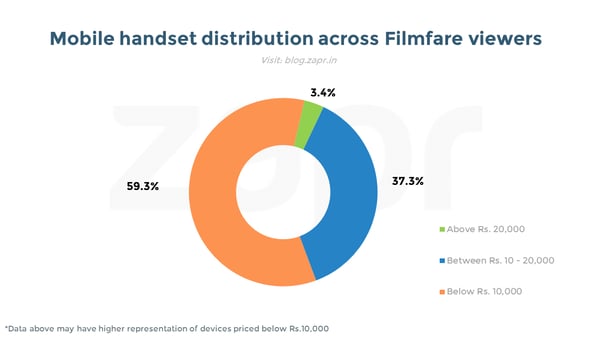 Brand marketers can reach out to us for more details on each segment's consumption behaviour and then engage with them on their smartphones across apps, exchanges and social platforms such as Facebook and YouTube.
Major brands have worked with Zapr Media Labs to execute advanced targeting campaigns across India's growing smartphone user base. At the heart of these high engagement metrics lies the fact that deterministic individual level analytics allows brands to achieve previously impossible levels of precision while engaging with target audiences.