A couple of episode-leaks later, people were still eager for good quality broadcasts of Game of Thrones this season. Hindustan Times even reported that the fourth episode, despite leak-out before its official release date, was most watched in the entire show history across all major OTT platforms. What does this mean for Television, with its much sought-after broadcast quality and largest media penetration in India?
At Zapr Media Labs, we used audio-fingerprinting technology to detect those who watched Game of Thrones on offline Television. We conducted in-depth research across our user-base of 40+ million smartphone users to accurately profile audiences who tuned into GOT on their TV sets. The study covers show-penetration in major cities, migration from other top viewed genres and channels, show loyalty episode-to-episode and other key metrics.
Let's take a look at them one by one:
Show loyalty: Episode-to-episode analysis
0.3 million viewers tuned in for the first episode on July 18th. GOT experienced an upward slope in viewership for the rest of the season culminating with 0.4 million viewers for the season finale.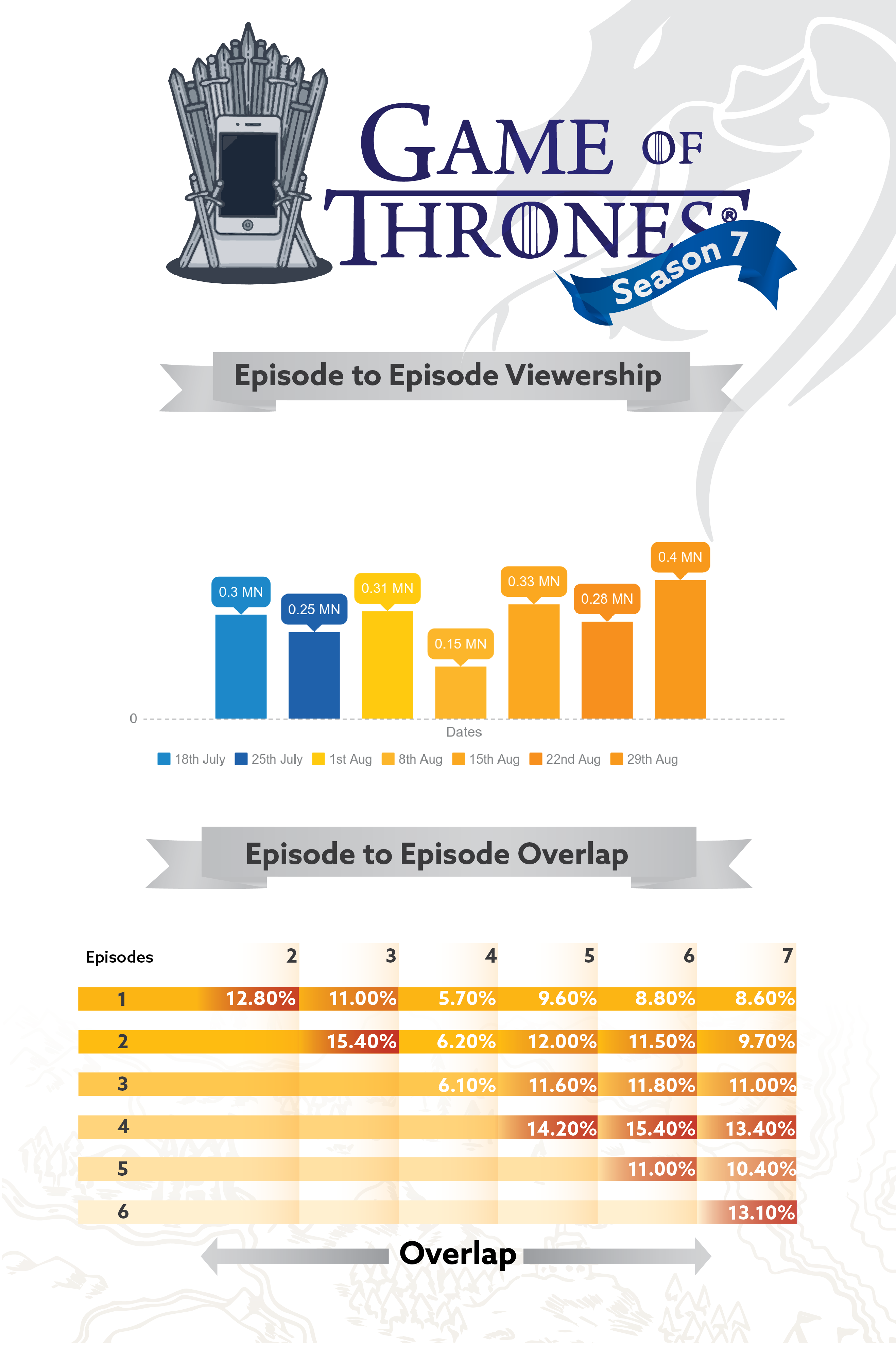 Season 7 experienced a sudden peak in the fifth episode with 0.33 million, perhaps owing to the previous episode's action-packed cliffhanger which left audiences asking who actually saved Jaime Lannister? Interestingly, the fourth and fifth episodes also share one of the highest overlap rate (14.2%) as seen in the show-loyalty chart above.
Viewer Migration: genre and channel levels
Genre level: Zapr TV analytics reveal that TV viewers migrated extensively from other channel genres to watch Game of Thrones on Star World. We saw the highest movement from Hindi Entertainment channels (56.5%) such as Colors TV, Sony Entertainment TV, Zee TV; Hindi Movie channels (47.8%) such as Star Gold, And Pictures, Zee Movies; and Hindi News channels (32.2%) such as NDTV India, Zee News and Aaj Tak, during the two months that Game of Thrones aired on TV.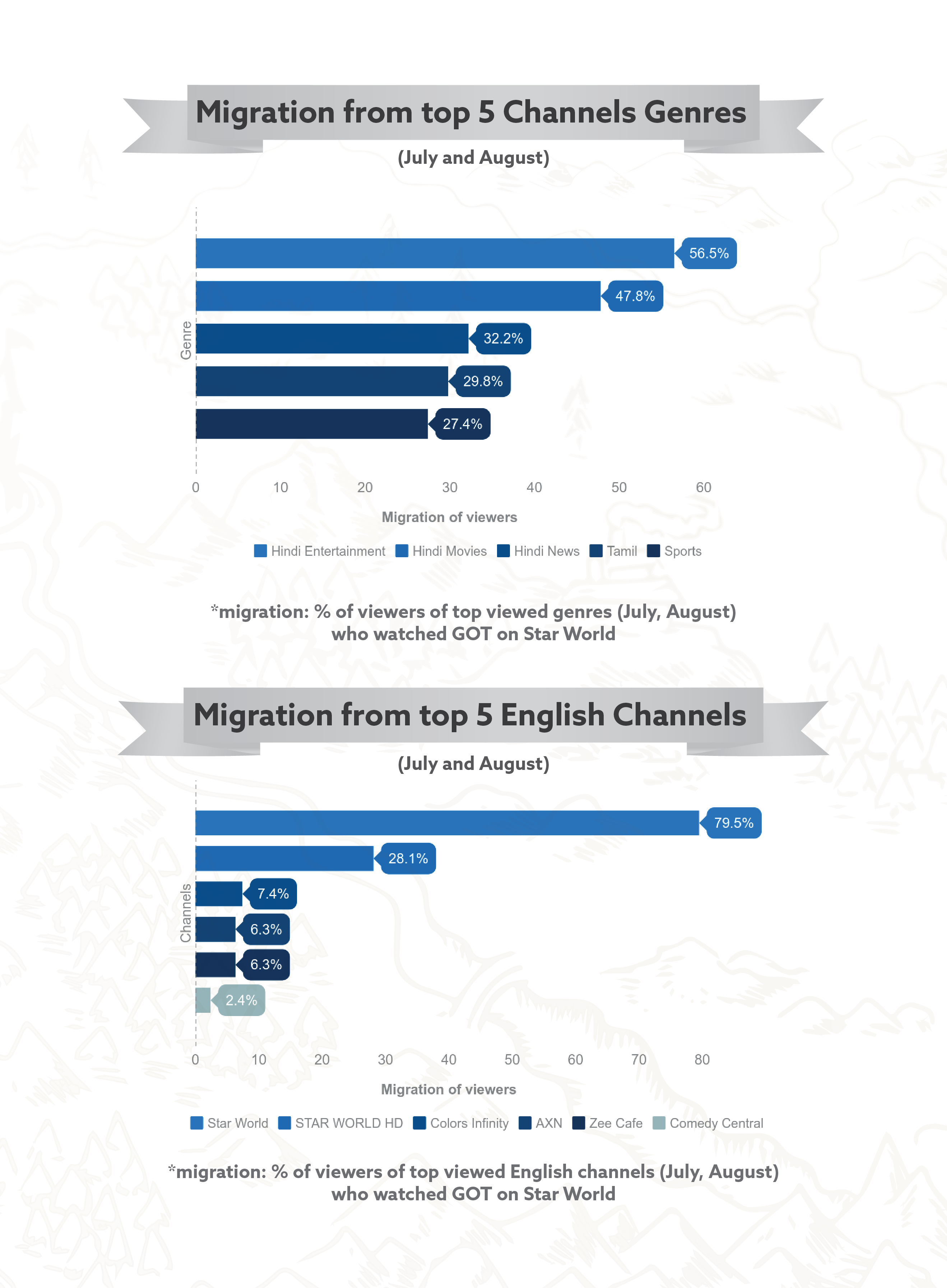 Channel level: We also studied how viewers of the same English Entertainment genre migrated to GOT and found a significant shift from channels like Colors Infinity, AXN, Zee Cafe and Comedy Central. Interestingly, Star World retained much of its viewership-base for Game of Thrones telecasts with 80% of channel viewers tuned in for the complete season on TV.
Geographic penetration: the real picture
We combined our smartphone-mapping technology and TV analytics to precisely measure GOT's penetration in major cities across India. We did this by meticulously calculating GOT's reach in each city given the number of active TV-viewing smartphone-users in that locality. This gave us real reach at highly granular levels, in different areas classified by population.
Bangalore and Pune had the highest reach penetration for GOT among metropolitan cities, while Guwahati topped cities having above 1 million population, followed by Gurgaon and Noida.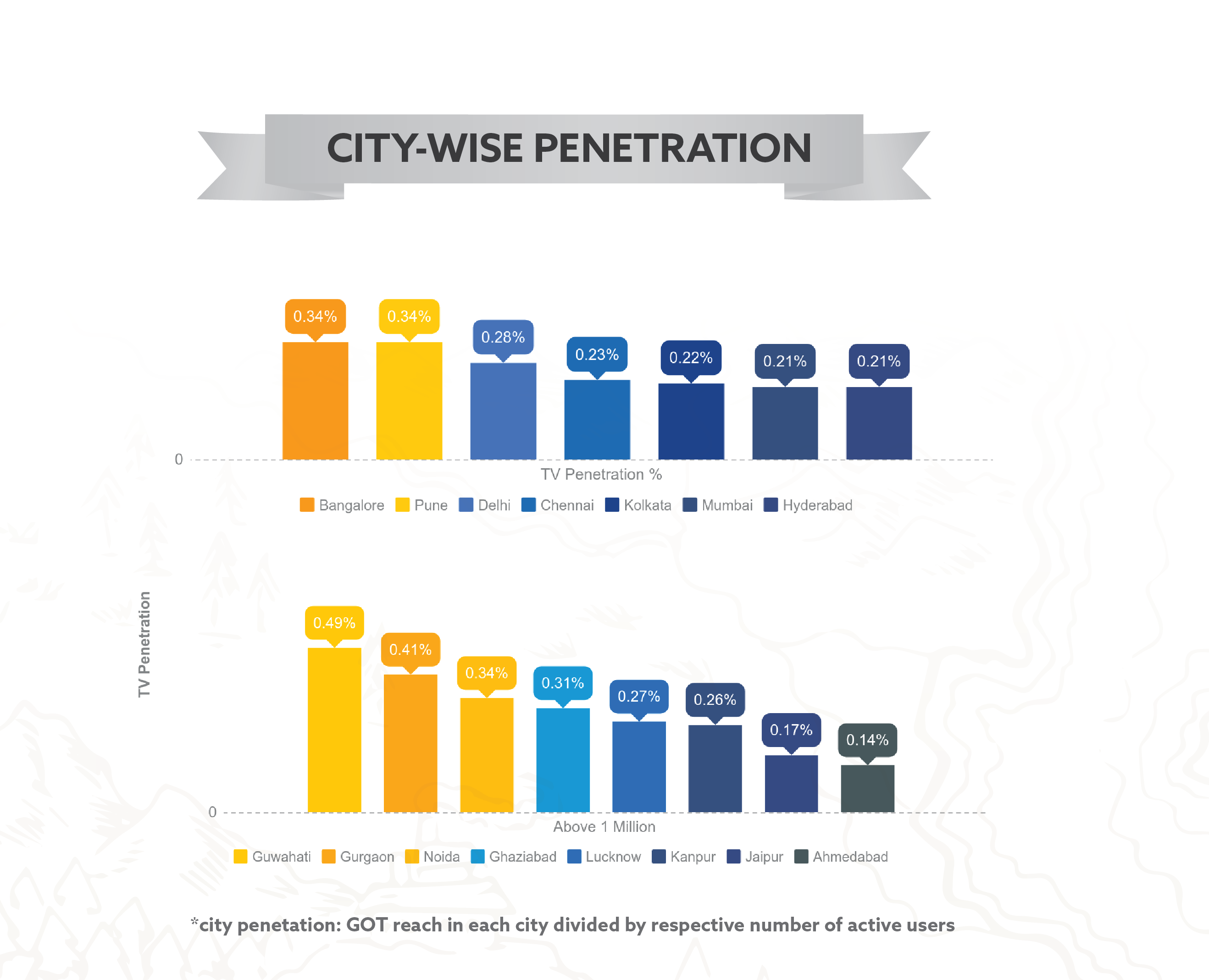 Device distribution: purchase-power indicators
Zapr's smartphone-powered technology enabled us to identify the kind of mobile handsets used by GOT viewers. Results reveal that significant portions of individuals owned mid-end phones (32%) priced between Rs.7,000 - Rs. 16,000 and high-end phones (9%) priced above Rs.16,000. This suggests that GOT's TV audiences possess above-average purchase power with significant access to premium products and service.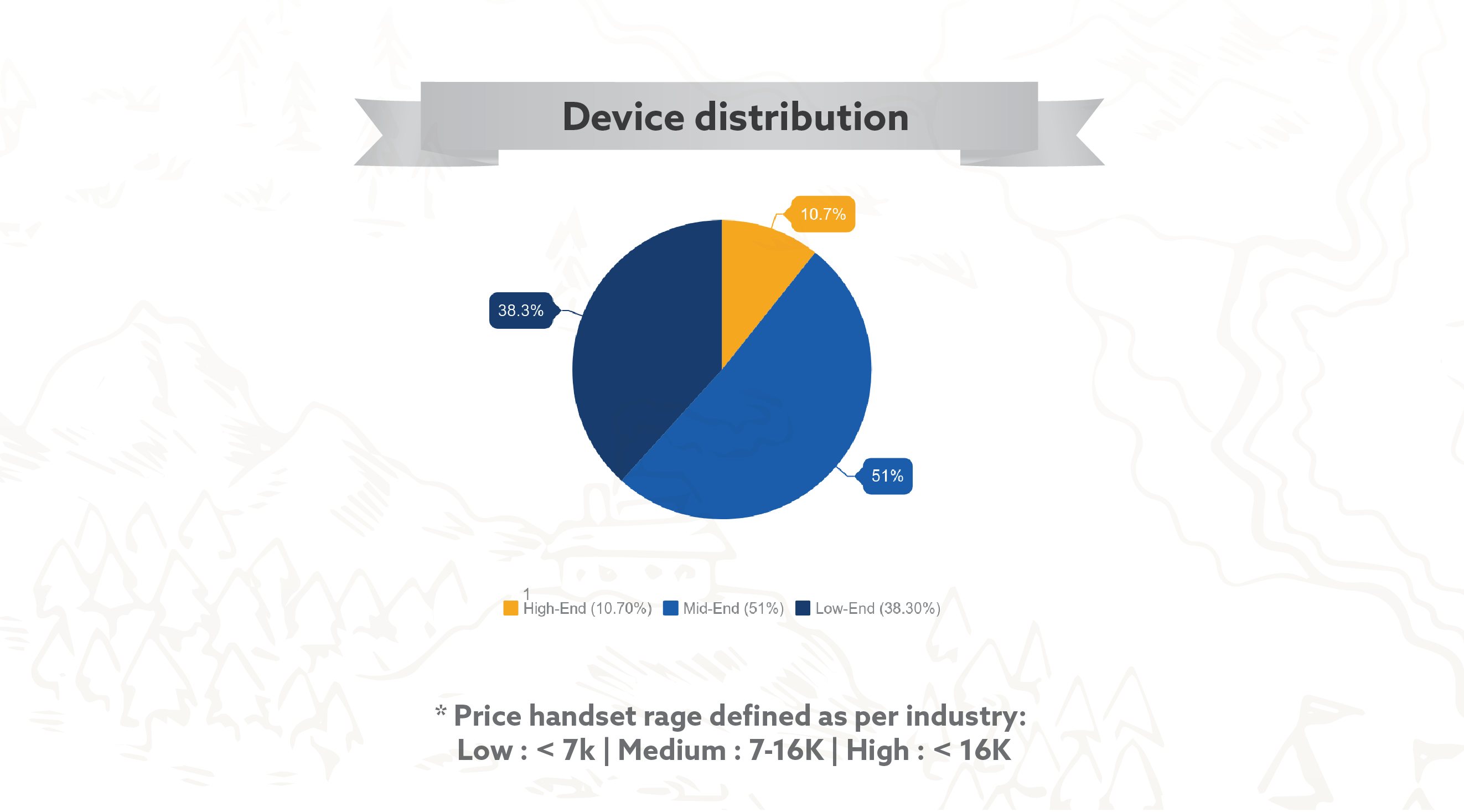 Profiling TV viewership and Big-Data to what end?
Zapr's TV-to-Mobile platform is not only India's largest media consumption repository but is also a one-stop shop for brand engagement through our in-house ad-technology. Brands, broadcasters and agencies have leveraged Zapr to reach offline segments straight on their mobiles, a lean-in point of attention which people can't ignore. For example, if a brand wants to reach out to Bigg Boss viewers, they can run Zapr campaigns precisely engaging them even without spending heavily on television.
Read how we got 1,40,000 people to switch TV channels: Real Time Mobile Targeting for Major TV broadcaster.
Subscribe to our newsletter and receive TV insights, data analytics, campaign case studies, and more.